Post by ~Nash-eoke~ on Jun 8, 2007 18:17:11 GMT -5
After several weeks of heated discussion at the family Villa on Greensand Island between Master Jon , Salome and the lady of the house Sahrah . A decision is finaly made that involves the young lady of the house Hana.
Salome has so far disagreed with the proposals that master jon has put forward and on the odd occasion has stormed off in a huff and visably popped a few veins on her forhead but to no avail.
Before Salome finaly gave in to the innevitable she had been adamant that she could do a better job at training her own daughter herself , but after the exiting mention of another long distance journey that would indeed be a fun follow up to her previous trip to Costa Rica to find the Earths own massive Dragonball's , Hana yet again bounces with exitement as lady sahrah gives her last nod of approval.
Master Jon : So the decision is made then . hana's going to scotland for special training endurance and socializing
Salome : I still dont see why Hana has to go all that was just be trained with weak human children.
Hana : But mummy I realy want to go , I want to get some training and meet some more kids like me , please , please mummy.
lady sahrah : Salome dear you cannot hold the wee lass here forever she needs to be having some time with others her kind.
Salome : If I am not mistakened the place you are taking my daughter , the children there are most definately not her kind , Salome wisps her hair out of her face with some annoyance
Salome : She is a saiyan and I cannot bear the thought of her being trained with the likes of multiple weak earthlings.
Hana : But I am half human ! Hana pleads as a sorrowfull look comes to her face.
Master Jon : Of course you are darling and I have made the decision wether your mother likes it or not that you are going for an adventure in Auntie sahrah's home land.
lady Sahra : Aye I totaly agree with you Jon I know of a good man that will teach her mild discipline and the wee lass here can have some fun outdoors and go camping too
Hana : Yeaaa !! camping.
Salome : So be it , I am tired of battling against you two and I was sure I could do a much better job myself and make a her more powerfull than a sorcerror in a cheap raven suit.
Rayemond : " bwaah ha ha har " is heard to laugh from another room , " Cheap raven suit.
Master Jon : He he he . Well I am having Meyo take her in person to see our friend James McKenzie or we can call him Raven , and I trust she will have a great time while she's there.
Salome : I cannot believe my own brother takes your side , he has proven himself to have his own idea's yet again.
Lady Sahrah : Well you be ready to goo now , your all packed up for an adventure in the great outdoors and you have the Yew bow your father made and that wee knife that Jaimes's brother made.
Master Jon : Well it looks like she's all set to go then , Jon smiles.
Hana : Yayy!! im going , im realy going today.
Salome : Well you may as well go and do your thing , if the earthling kids annoy all you have to do is wave your hand , she finaly laughs.
-----------------------------------------
So the day came when Hana accompanied by her uncle Meyo finaly make their way and after a couple of stop off's and the same amount of nights in a tent somewhere between Greensand Island and the Highland of Scotland , they finaly arrive at their destination.
-----------------------------------------
Hana : Wow would you look at this place it's just like the mountains at Greensand island
Hana looks around the landscape as the two of them gradualy slow down from two bright white comets and try to find a clearing in the forest by a lake where four children stand on the bankside next to a rather dishy scotsman in a cheap raven suit.
Meyo : Yes it is beautiful just like our home , hang on I think I can see Raven down there by that lake , hmm ? I think maybe it would be a good idea if we landed in the forest and walked up to him , you dont want to give away your secret to the other kids do you.
Hana : Oh yes I see him . Wow he looks quite impessive but does he realy have feathers ? , the last approaches to ground are moments away and the two saiyan's dodge in between the tree canopy before landing on the woodland floor.
Meyo : No I think thats most likely the cheap raven suit that your mother mentioned.
They both laugh as they drop to earth and start walking towards the lake.
------------------------------------------
On a nearby bankof the loch raven stands with four eager kids to teens and they sem ready to spring into action at any time.
Raven : " This is our next challenge young warrior's " , " you will see four hide boats " , " your challenge is to cross the lake and beat you opponents ".
Raven : " For the one that arrives at the far bank first they will be rewarded with three gold rings " , " for the one who comes second they will be awarded two gold rings and third one gold ring "
Raven : " However young warriors if one of you should be unlucky enough to come last you will lose a life " , " So are we all ready for the battle of the boats ?
All the four children nod in agreement and make themselves known that they are ready and take up their places ready to jump for the hide canoe's.
Raven : " Very well , let the challenge * raven lifts his staff and drops it down again * begin !!
All four scottie kids lunge for the Canoe's and raven watches as they paddle their way across the lake , some in a starait line and some sideways and barging into their fellows.
Raven : Arnor if you are to maintain your lead you must be quicker.
Raven stands alone as the first challenger retrieves three gold rings.
-------------------------------------------
Suddenly there is a leafy rustle and raven with his back to the approaching Hana and Meyo senses their presence.
Raven : " Ah I have been expecting you young Hana " , he turns around and smiles with staff of power in hand.
hana seems very perplexed by the fact that raven allready knows that they are there and even more suprized that he knows her name , the young saiyan happily hops up to raven shortly followed by Meyo.
Raven nods , " Meyo , Hana . Welcome "
Meyo : It's great to finaly meet you Young Master Jon and Lady Sahrah Dunbar have told Hana and I so much about you.
Hana : Hey you must be James McKenzie , the bubbly girl stares at raven's not quite so cheap looking suit , see daddy was right these are real feathers . * hana accidently pulls a feather out of ravens jacket.
Meyo : Im so sorry her mother did'nt believe you jacket was real.
Raven laughs " I know I have had many comments on my costume in the past " , " however I can asure you it is real "
Hana : I knew it I knew it , hana beams
Raven : I am Mr McKenzie but I must stress that you must call me by my prefered name , raven
Hana : Oh yea ok sorry about that govenor
Raven ? ? ?
Meyo : So when does she start ?
Raven : " Not quite yet as we are not ready for our next group of intrepid warriors " , " we must first set up camp and prepare as well as slumber for two nights more.
Hana : Are we going camping Mr McKenzie ?
Raven : " Yes indeed we are " he smiles " And it's Raven to you "
Hana : Oh yes sorry I forgot
Meyo : Well I will leave you to it then James , I mean raven . Meyo nods and grins.
Raven : No Meyo dont leave just yet , you will need rest before your long journey ahead and tonight we must feast.
---------------------------------------------
RAVEN COMMENT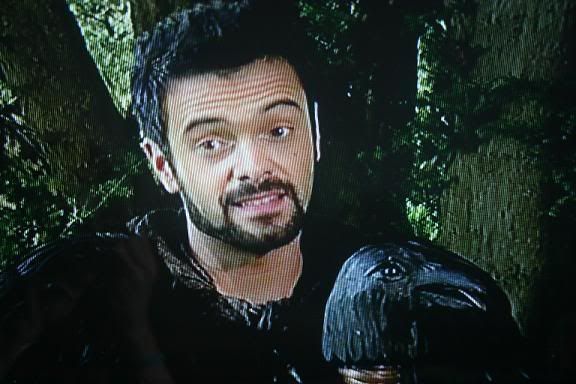 Leap of faith
Raven : You must remember to supress your special powers Hana , you are allready of an unfair advantage over the other warriors.
Hana : I am sorry , sometimes I do it without knowing.
Raven : Well it seems I may have to put a spell on you to prevent you from overtaking your fellow Warriors.
Hana nods in submission.